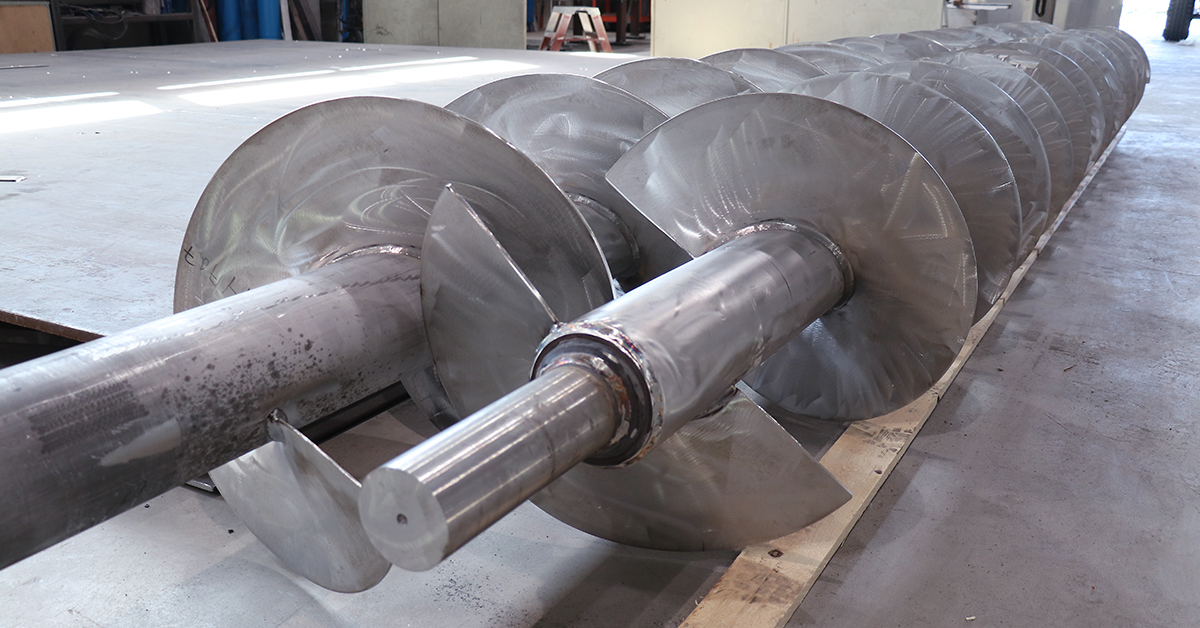 There are several different kinds of screw conveyor – Simetek designs, manufactures, and repairs all of them
17.6.2022
Screw conveyors are suitable for moving, feeding, portioning, mixing, crushing, or dispersing different kinds of materials. Simetek manufactures screw conveyors for the mining and pulp industries and energy plants in particular, but smaller deliveries are possible.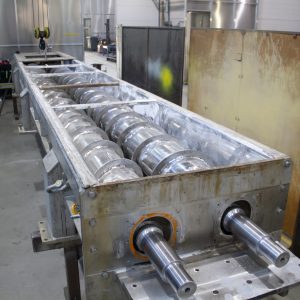 Conveyors can be used to move e.g. grains, rocky materials, lime, wood chips, ash, and peat. The conveyors' closed structure means that food or animal feed industry materials are not easily contaminated.
"Screw conveyors are usually used to transport materials distances from a few metres up to dozens of metres. They can also be connected to one another to lengthen the transport distance," says Simetek's design manager Pasi Knuuttila.
Screw conveyors require machining
Screw conveyors that separate and mix are used to separate and mix e.g. peat and various food ingredients. The most challenging type of conveyors to manufacture are carrot-shaped screw conveyors used at the bottom of silos.
Typically, the rope gaskets, bearings, and gearbox of a screw conveyor need machining. In some cases, the screw blade diameter is machined to a tolerated measurement. It can take weeks to machine a large screw conveyor.
"Manufacturing must ensure that the screw blade is straight so that it doesn't hit the frame when it rotates inside the pipe. The components with more stringent requirements are machined so that they are straight after welding," says Knuuttila.
The parts of the screw conveyor that mix can comprise screw blades or e.g. paddles that intersect inwards and mix the material to be conveyed. Mixing paddles were used in e.g. a paste mixer Simetek delivered to Agnico Eagle.
Wear caused by the conveyed material must be considered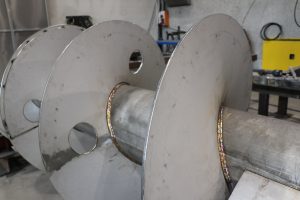 Screw conveyors are made from structural steel (S355) and stainless, acid-resistant, armour, and wear and abrasion-resistant steel. When choosing a material, the properties of the conveyed material must be accounted for with regard to e.g. wear and corrosion. Corrosion is affected by temperature and PH value.
If the material to be handled causes mechanical wear, the blades of the screw can be improved by using wear and abrasion-resistant steel, armour steel, or a coating.
Simetek also refurbishes old screw conveyors. In such cases, the conveyor is disassembled and its condition is inspected. A cost estimate is drawn up for refurbishment of the conveyor.
"The conveyor is refurbished in accordance with the customer's wishes: we can replace components or manufacture an entirely new screw conveyor," explains Knuuttila.