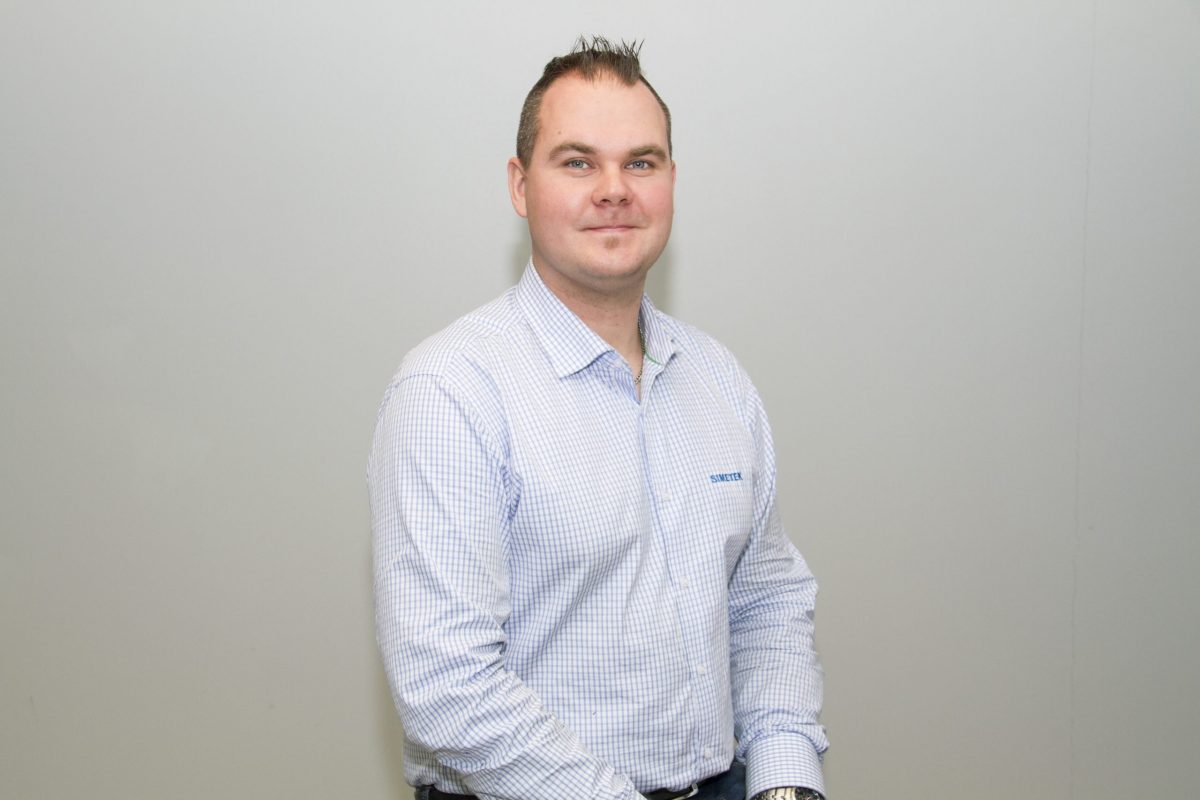 Managing director Roivainen also works in the machine shop if required
29.12.2021
Simetek Works' managing director Timo Roivainen has spent all of his holidays at work at Simetek since he was 15 years old. Later on, he took over responsibility for the company.
Like his sister, Satu Räsänen, Timo Roivainen was involved in the construction of the machine shop hall building, but then worked a number of other summer jobs from welding to driving and from flame-cutting to installing before he joined the company permanently.
"I only worked elsewhere for one summer, when I plastic-formed bales with a tractor. After that, I've spent all of my holidays here at Simetek," explains Roivainen.
Roivainen began permanent employment at Simetek after his machine engineering studies in 2010, and took on the role of managing director of Simetek Service, which specialises in maintenance services. In 2017, the company merged with Simetek Works and Timo Roivainen took over responsibility for managing the entire company from his father Kari Roivainen.
The change in generation has not yet fully taken place, as Kari still owns the majority share of the company, although he no longer participates in operative activities. Timo and Satu are minor shareholders in the company.
Roivainen provides technical assistance to the foremen
Roivainen is active when it comes to hobbies, too, and is happy to work on design as well as installation.  It wasn't long before Roivainen grabbed the edging and welding tools and started to do customer work.
"It's nice to do something you can see your handiwork in sometimes. You keep your skills up, and you also notice if there are any shortcomings in the hall. When you're working yourself, you pay more attention and you can correct any issues," Roivanen says.
He is otherwise happy to participate in the day-to-day management of work and provides technical assistance to the foremen. The experience he has gained over the years is useful as the other foremen haven't worked at the company for as long.
A typical commission usually progresses either with the customer providing ready images which are used to calculate a quote, or with an initial survey on site, which is used by Simetek's design department to make a layout and to negotiate details, which are then used to draw up a quote.
Simetek has a great team
Roivainen believes that the most challenging thing about work in the machine shop is getting things done on a certain schedule. Things often have to be done on quick cycles, and the availability of components can be a critical factor. Then you have to think about whether you can solve a problem in a different way.
"Especially in larger projects, it's interesting to think about how to manage the project as a whole. One good example is the Mussalo project. Of course, even a small job can be a nice challenge, and the value of a project in monetary terms doesn't always correlate to how challenging a job is.
In larger projects, you need to consider the overall management of the commission, and then tender and purchase components, for example. There is also pressure to stay within the total budget.
Roivainen says that there has not yet been a job that could not be solved. He has gained experience over the years, which makes it easy to solve challenges.
"We also have a great team here, and we solve problems together."
Design activities have attracted larger projects
When Roivainen compares current operations to previous years, he believes that the machine shop has begun to receive larger projects, at least in terms of turnover, through design activities. Investments have been made in staff satisfaction and in listening to staff.
"We have a positive atmosphere. You notice that the employees think of what's best for the company," says Roivainen in praise of the staff.
A development project to increase operational productivity is currently under way at Simetek. It aims to do this by making the machine shop equipment more modern. Roivainen says that this is important in order to retain competitive ability and obtain labour.
"Modern equipment is directly linked to job satisfaction and makes recruitment easier," he says.
Active hobbies
As a counterbalance to his work, Roivainen enjoys hunting, motorcycling, snowmobiling, and chopping firewood. Rally driving used to be like a second job to him. He spent his weekends attending competitions and his weekday evenings working on a car. At his peak, Roivainen was even competing nationally. Since then, coronavirus and a lack of time have meant he hasn't been able to enjoy motorsports as much.
Roivainen's family includes his partner, his 11-year-old son, and two poodles.