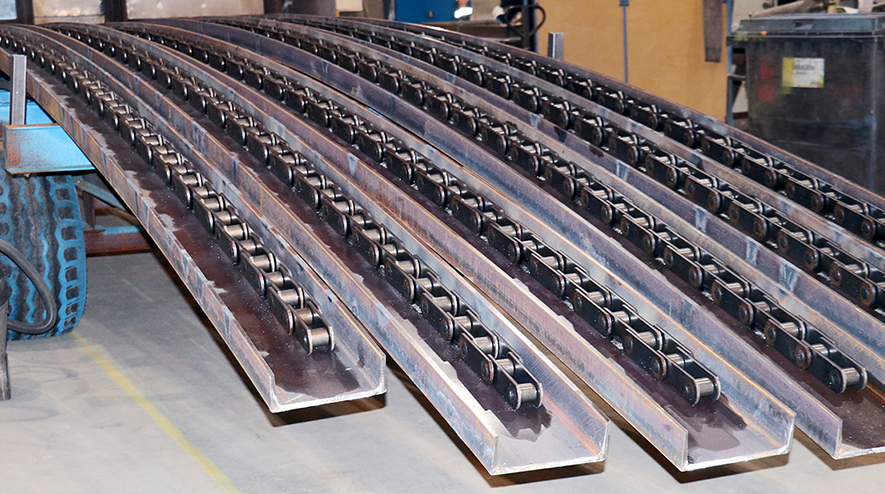 The implementation of drive rails for an intermediate thickener required Simetek to have competence with mangles and laser scanning
9.12.2021
Simetek provided new drive rails and a pulling car for the intermediate thickener at Elementis Minerals' talc plant in Outukumpu.
Collaboration began in late summer 2020, when Elementis noticed the need for new drive rails and a pulling car for its intermediate thickener at its Outokumpu plant, as the existing ones were nearing the end of their service life. Simetek drew up a preliminary design that was used as the basis to manufacture new rails, and created an installation plan to implement the project.
The intermediate thickener is a round pool around 50 metres in diameter, into which talc's raw material is pumped. A drive rail goes around the outer edge of the thickener, along which there is a pulling car that powers a mixer steel rake. The car itself features a cogwheel that runs along a steel chain welded onto the top of the drive rail.
The rail pieces were bent using a mangle
"Designer Matti Hirvonen went to laser scan the intermediate thickener at the start of the project to obtain precise information about the dimensions of the old rails, the roundness of the rails, and the evenness of the surface on which the rail runs. Based on the scanning data, we then designed and manufactured new rails and a new frame for the pulling car. The scanning data also gave us the installation height for the new rails so that all of the surfaces are at the same height," explains project manager Ville Kinnunen.
Improvements were made to the new pulling car, including to the structure, location, and adjustability of the adjustable wheels. The car was also made lighter.
The pieces for the rail arrived at the machine shop as 12-metre-long beams. According to Kinnunen, bending them to the right radius required special expertise with mangling thick beams and flame straightening.
"If you heat the beam in certain places, you can make it bend in the right direction. You don't learn this sort of thing from books; our veteran machine shop workers have learnt to judge by eye where the beam needs to be heated in order for it to bend in the right direction a couple of metres further along."
Collaboration went smoothly
Collaboration between Simetek and Elementis was smooth right from the start. Simetek knew what the customer wanted at every stage of the project. Elementis meanwhile was able to trust that Simetek would fulfil their wishes.
The installation of the drive rails went without a hitch. Simetek carried out the work in two 12-hour shifts, each worked by five men. Even though it sleeted and rained, the work groups were in good spirits.
"We would like to thank the customer for good break facilities and a good installation environment. This was a real success story. Contact with the customer went well, and they had carried out the requested preparations so that we were able to start installation immediately after arriving on site," says Kinnunen.