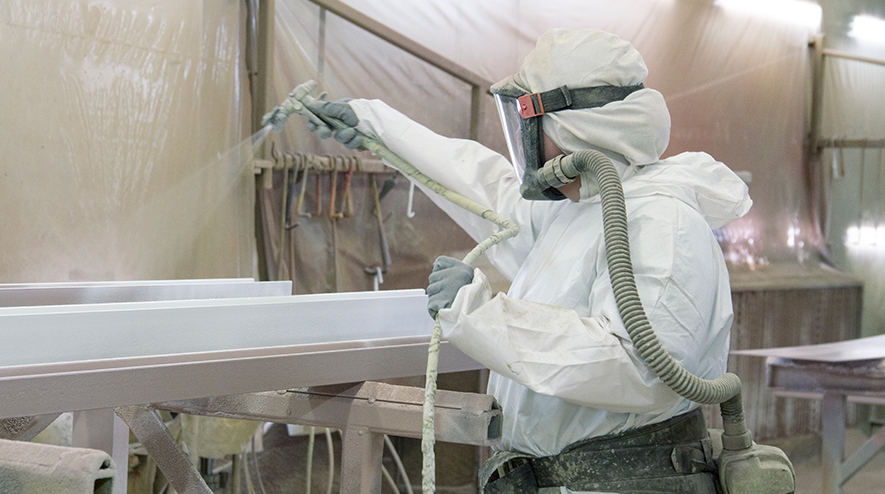 Simetek's paint shop also carries out subcontracted work
13.8.2021
Simetek's paint shop operates in connection with Simetek's machine shop, and is one of the largest in Siilinjärvi. It carries out surface treatment work for its own projects and for subcontracted work.
The paint shop pays particular attention to quality assurance. Before painting, we check the object for any welding defects, spatter, or anything else that needs repairing. After painting, we test the thickness of the paint film to ensure that the treated product definitely fulfils the customer's wishes," explains surface treatment worker Sanni Tikkanen.
Surface treatment for large objects
Simetek is able to provide surface treatment even for large objects. The paint line consists of a 16-metre-long steel grit blasting chamber, a 24-metre-long wet painting chamber, and a packing department. Large objects can also be conveniently treated using our gantry crane and transfer cars. The lifting capacity is 10 tonnes.
"I began work at Simetek in 2017, and since then the products for painting have only increased in size over the years. The largest objects we've painted are Cat mining truck beds, parts for Junttan's pile-driving machines, steel structures for Bolide's Kevitsa mine, and a mobile crusher, which is a crusher built on the trailer of a truck," says Tikkanen.
In addition to large products, Simetek also receives various maintenance platforms, cylinders, and even very small objects for painting. The paint shop is "fed" in-house by the welding workshop, but it also takes on subcontracted painting jobs.
"We are able to react quickly to customers' needs," says Tikkanen.
Painting aims at wear-resistance
Product surface treatment typically aims to increase resistance against wear and corrosion. Usually, a treated surface must also be able to withstand heat to prevent the sun from burning the paint. It is common to apply a base layer of epoxy paint and a top coat of polyurethane paint. The paints form a film with a good resistance to wear and weather.
"Before painting, we carry out steel grit blasting on products to ensure that we aren't working with wafer-thin sheeting. Paint adheres significantly better to a steel grit-blasted surface, and blasting also removes impurities from the surface," explains Tikkanen.
Pressurised air is used to remove dust from the surface before painting and the surface is checked to make sure there is no grease or other dirt. After painting, a record of the painted object is made and the products are packed and sent to the customer.
The paint shop will undergo development as a result of Simetek's development project, which is due to begin in summer 2021. The paint shop also carries out pickling, which improves the properties of stainless steels and aluminium.