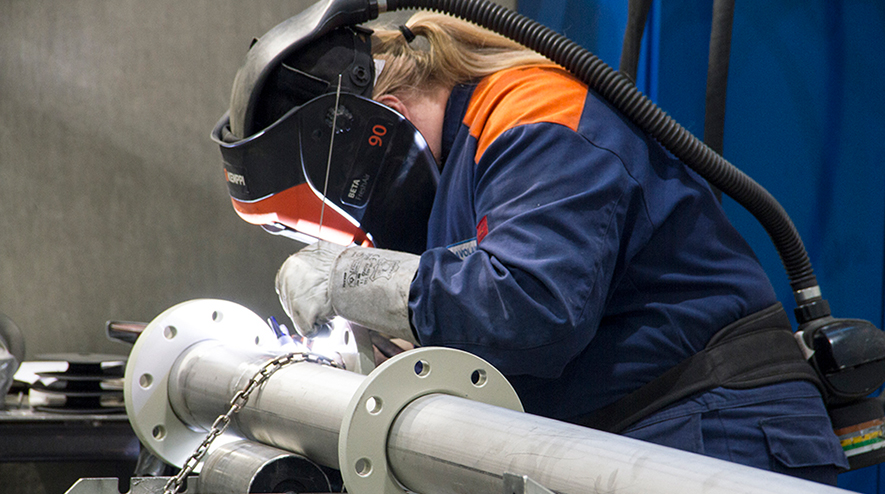 Occupational safety at Simetek exceeds requirements
8.4.2021
At Simetek, occupational safety is considered in all areas and work phases. During installation and maintenance work, occupational safety often exceeds the customer's requirements.
Machine shop work can be risky if you don't have appropriate protective gear and safe, suitable working methods. At Simetek, noone needs to work with worn or broken protective gear, and working methods are carefully considered in advance. Protective gear is freely available from a goods supplier's commission sales shelves, located on Simetek's premises.
"The shelves are stocked with shoes, gloves, and other smaller pieces of protective gear. Welding masks must be ordered in, but they usually last for years," says project manager Ville Kinnunen from Simetek.
The protective gear required varies according to task, so there is workwear for hot work, safety boots, safety glasses and hearing protectors, heat-resistant gloves, and welding masks with fresh air fans and the necessary filters. Simetek doesn't delay when it comes to protective gear, which is updated as soon as a better option becomes available.
Safety is also prioritised at workstations
Workstations have good ergonomics, with sturdy and supportive worktops and stools, and safety is ensured by placing heavy machinery such as welding equipment on the end of mobile hoist, so it doesn't need to be lifted manually.
"Each workstation is also accessible by hall crane, which can be used to lift and turn heavier objects without pulling a muscle," explains Kinnunen.
Workstations can also be compartmentalised, which reduces banging and the noise from angle grinding. Kinnunen says it's almost impossible to completely reduce noise, but effective hearing protection is used to this end.
At the end of the day, every worker cleans their workstation of dust and dirt, and tidies up the equipment they have used. Cleaning is made easier by effective workstation ventilation with local extraction, which also vacuums up dust. Extraction is useful when welding, as it sucks the welding smoke away from the workstation.
Occupational safety is actively monitored
At Simetek, accidents and close calls are actively monitored on a weekly basis. Statistics are compiled and the accidents and close calls are recorded as exceptions. The aim is to find the root causes that led to a recorded incident so that any inadequacies can be rectified to avoid similar situations from occurring again in the future.
The occupational safety indicators used are Total Recordable Injuries (TRI) and Lost Time Accidents (LTA). TRI accounts for all incidents that lead to absences, and incidents that require treatment or first aid. LTA meanwhile accounts for all workplace accidents that cause days of inability to work.
Statistics and exceptions that have occurred are examined together with certain customers at regular intervals. Both sides aim to learn from events.
Occupational safety in maintenance work and equipment deliveries
At maintenance jobs, we comply at least with the minimum level of safety requirements set by the customer. Simetek often carries out safety procedures that go above and beyond the issued requirements. Even if a customer says that it isn't necessary to section off an area, we do so anyway, because we're used to it.
Before annual stoppages, many customers hold a separate stoppage meeting with their contractors to go through the most critical jobs. The meeting also sets out house rules for everyone and practical matters from an occupational safety perspective. Kinnunen explains that the same things are discussed at Simetek in a risk assessment in different work groups, and everyone confirms that they have understood.
"If an occupational safety issue comes up in discussions, it will be considered and dealt with. Before beginning an annual stoppage, work groups tour the sites and review the work phases, their risks, and risk management methods. Everything is considered in advance."
Equipment checks are also carried out before a stoppage, and all lifting equipment and electrical tools are inspected. When an angle grinder is used at a work site, for example, it is visually checked to make sure that the cables and components are in good working order. More extensive electrical inspections on devices are carried out by one of Simetek's subcontractors. They use a multimeter to check that the devices are in good condition.
Occupational safety is also considered in connection with equipment deliveries. The customer is provided with final documentation that outlines instructions for use and safety instructions.
Learn more about our services!