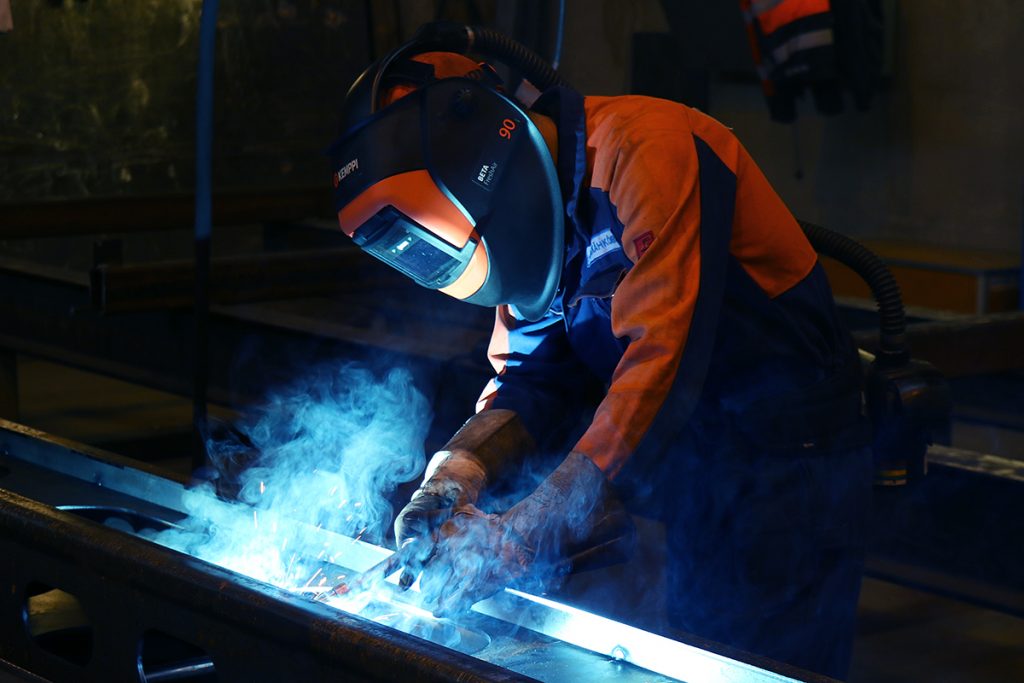 Sheet metal worker Joni Kähkönen is happy at Simetek
21.12.2018
Joni Kähkönen has enjoyed work as a sheet metal worker at Simetek for almost 11 years. He specialises in lead burning and aluminium welding.
Kähkönen's typical job description involves manufacturing leaders for Junttan's piling machines. In addition to made-to-measure work, he also repairs and restores rollers, containers and conveyor parts, for example.
Most of the time Kähkönen works at the workshop. Installations on customer sites and a diverse range of jobs bring variation to his work.
"At Simetek there's not often much need to do large series of line production, and the jobs vary. The materials also vary from aluminium to stainless steel and from structural steel to special steels," says Kähkönen.
Kähkönen's favourite material is black steel.
Sheet metal working and welding methods
Kähkönen mainly uses a welder and angle grinder in his work, but when working with sheet metal he also uses a press brake, mangle, flame cutting torch and handheld tools.
Lead burning is a more challenging technique than normal welding. It differs from normal welding due to its low melting point, which is just over 300 degrees, while steel has a melting point of over 1000 degrees.
"In practice, lead burning is gas welding in which lead is melted using small gas tubes," explains Kähkönen.
The toxicity of lead sets its own requirements for protective equipment. Typically, this method is only used at sulphuric acid plants. Read more about lead burning…
The atmosphere at work
Kähkönen says the atmosphere at work is good, and everyone gets along with one another. Evenings out with other members of staff increase team spirit. Colleagues from different units engage in discussion and exchange views.
"We listen to each other's opinions and solve challenges together."
Learn more about our sheet metal- and welding services…
If you are interested in working at Simetek, send an open application using our application form!
For more information, please contact:
Timo Roivainen
Tel. +358 (0)20 720 9779
timo.roivainen(a)simetek.com