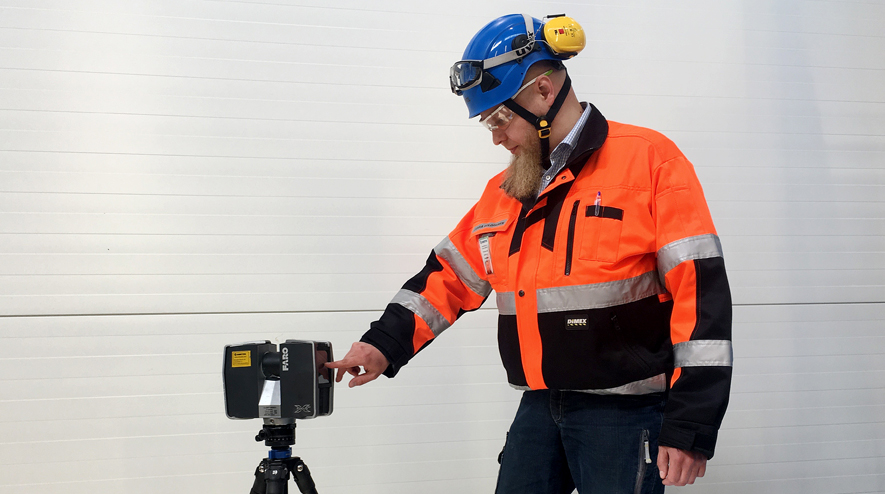 Laser scanning in the design of steel structures
28.5.2018
Laser scanning works excellently when designing new steel structures among existing structures.
Is your plant building missing drawings, or have modifications been carried out retroactively? Do you need information on the size of beams or pipes in the ceiling, for example? Scanning means that there's no need for a tape measure, and you can even measure areas that are unreachable in person. Scanning also minimises measurement errors.
What is laser scanning?
Laser scanning is a method that is used to create a 3D image of existing structures. In practice, it is the measurement of distances. The device scans the distance from its own position to its surroundings. The measurements are then used to model a point cloud model which shows the forms of the measured site.
Work begins by specifying settings for the scanner regarding the location and whether lighting must be considered. The device can also be told how far it should measure. It can scan a maximum of 130 metres.
The scanner rotates around its own axis and measures the site using a rotating lens which projects a laser around it. The data collected by the device is opened on a computer and the scans taken from various points are combined into a single, large point cloud. If, for example, you wish to measure a container, it should be scanned from several directions, or the scanner will see the same thing from a single direction as a person.
The device also takes panoramic photographs of the site, which can be used afterwards to check what the space was actually like. The picture can be useful afterwards to confirm e.g. the location of pipes.
Laser scanning is so precise that in practice even such small elements as bolts can be seen in the point cloud produced from the measurements.
In which kinds of projects does Simetek use laser scanning?
We use laser scanning in the design of steel structures, container lids, work platforms, access routes, pipelines, conveyor and material feed systems and various production structures and devices.
We offer laser scanning as part of our design services because we want to provide our customers with a comprehensive service. Scanning eliminates measurement errors and allows us to see the current structures without old drawings. It is easy to see, for example, which kind of working platform will fit among existing structures using the laser scanning measurement data.
The point cloud model created from the laser scanning data also shows us where we can find surfaces to attach new steel structures.
We use a FARO Focus 3D x 130 laser scanning device in our measurements.
How does a laser scanning project progress?
To begin, we determine the aims of the measurement together with the customer and visit the site. We remove all unnecessary objects from the area that can disrupt the scanning, such as tools and dirt. Then we laser scan the space.
Scanning and data processing on the computer takes around a day before it can be utilised in design. After this, we can begin preplanning and planning.
Many of our customers who are located far away have been satisfied that measurement is successful in a single visit.
Learn more about our planning services…
For more information, please contact: 
Jukka Holopainen
senior planner
Simetek Oy
Tel. +358 (0)50 501 7838
jukka.holopainen(a)simetek.com