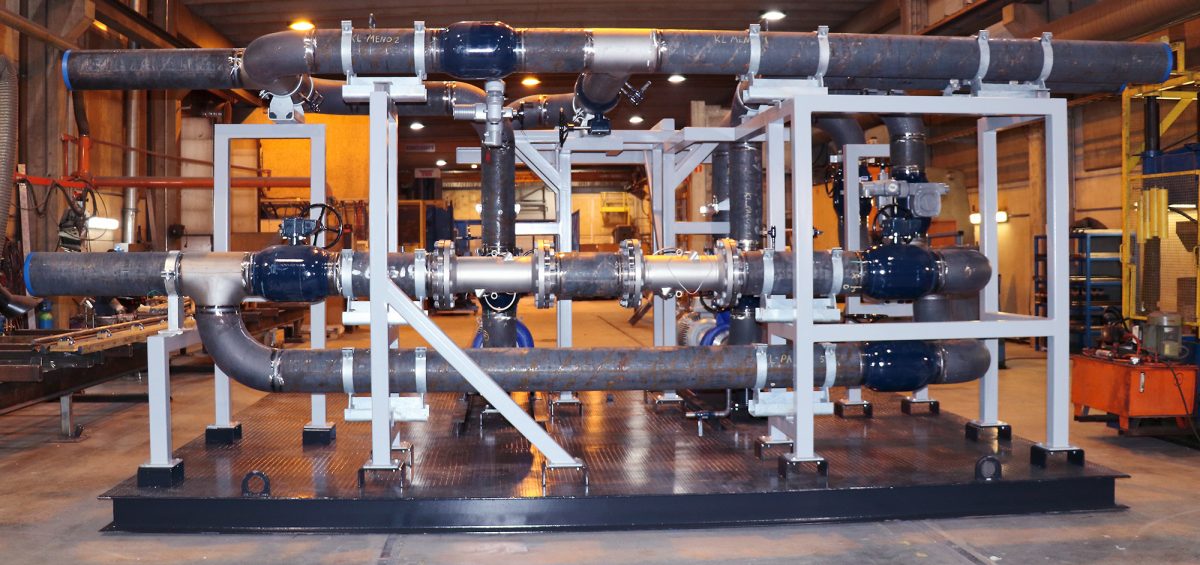 Simetek delivered a preinstalled district heating pumping station
18.12.2020
Simetek delivered a district heating booster pumping station to Savon Voima. The pumping station is critical in industrial waste heat recovery. The manufacturing method used for the pumping station was unique.
The delivery was exceptional in that the entire pumping station was delivered pre-installed and ready for use. Simetek designed and manufactured a steel base for the station, and floor insulation for the base was also added. The piping manufactured by Simetek was assembled on top of the base. The plan for the pipes was provided by Elomatic. Only the walls and ceiling had to be erected on site.
"At first, the plan was for the pumping station to be constructed on a concrete slab. That would have required lots of installation welding and lifting. Together with the customer, we decided it would be a good solution to build the pumping station on a steel base. This meant that the base could be manufactured as much as possible at the machine shop to prevent the pumping station from being left at the mercy of the weather for too long," explains Simetek's managing director Timo Roivainen.
The customer agreed that the ready-for-transit solution was extremely functional and cost-efficient. Savon Voima's operations manager, Mika Sutinen, says that the base solution was well-designed and withstood lifting with a gantry crane well. Simetek's work was well-organised.
"The complete delivery was exactly as planned, and Simetek's work is of a high quality. During the project, we were kept informed about what phase of manufacture was under way, and Simetek kept to the schedule, even though we had to wait for some components with longer delivery times."
Simetek gave a reliable and credible impression
Savon Voima's Siilinjärvi unit has also entrusted Simetek with other commissions. According to Sutinen, the unit benefits from sharing a village with such a cooperative machine shop.
"Even though we've collaborated with Simetek for a long time, this was the first heating station that we carried out together. We are pleased with the project. We are also considering preinstallation for the implementation of future heating stations, too."
Simetek left a reliable and credible impression on Sutinen. In addition to high-quality work, the hall was kept clean, and flexible negotiations on implementation methods went smoothly.